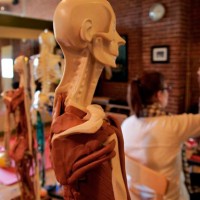 FREE Lecture Series
Anatomy Trains in Movement
The Arm Lines    
 April 26th 5:30-7pm
Using images and videos from dissection, we will review the four myofascial continuities that connect torso to hands, as well as touch on bodyreading techniques for the shoulder girdle.
Fascia 101
May 17th 5:30 -7pm 
Fascia is the fascinating biological fabric that gives us shape, and the glue that holds us together.  Long ignored, the fascial system is now a hot topic and getting its rightful due of attention, from both therapists and researchers.
Reservations appreciated
503 780 2621 www.shellystephenson.com
Learn more about Tom Myers' Anatomy Trains at
Anatomy Trains   In Clay
The Superficial + Deep Front Lines
Kinesthetic learners rejoice! We will build the myofascial continuities in clay on the Manikin© for a true 3-D experience.
Friday May 24th 5-7:30
6 people max   $60 Call 503 780 2621
or email info@shellystephenson.com to reserve your spot.